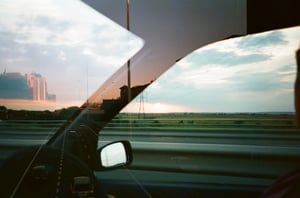 £

4.99
One week I shot a roll of film that I had got free with a second-hand camera. When I got the scans back I found I out that the roll had already been used by the guy who gave me it and so I had double-exposed it. By complete chance, both of us had taken a shot of a motor landscape and this photograph was made. His shot is from the inside of the car looking at countryside and mine is of a motorway landscape, which is seen best on the left hand side.
See it on Tumblr:
http://stephen-edwards.tumblr.com/post/24490676055/last-week-i-shot-a-roll-of-film-that-id-got-free
Gloss finish
FREE POSTAGE TO UK
You can contact me at this email address if you have any questions:
stephenedwards00@gmail.com
Thank you!